About Us
PositionsVACANT is an Australian-owned private enterprise dedicated to providing high-quality, cost-effective recruitment information to Australian jobseekers. And, importantly, is independent from recruitment companies or industry associations, unions, employer associations and government.
Our web syndication of careers sites has attracted over 200,000 jobseekers per month viewing over 40,000 vacancies in over 30 countries including Australia, New Zealand, United States, United Kingdom, Ireland, Canada, Germany, Switzerland, Austria, Italy, Netherlands, Singapore, Malaysia and Hong Kong.
Started in 1999 and relaunched under new ownership in 2001, we have been leveraging technology to match Jobseeker and Advertiser.
Some of the innovations that we are proud of are:
RSS Feeds (pushing jobs to the Jobseeker)
Live Banners (displaying jobs in banner ads)
Jobcasts (reproducing jobs for iPods)
RSS Feeds
Commonplace these days, we were the first careers site in Australia to "push" jobs to the Jobseeker by adapting the 2003 technique used for pushing News feeds, to push Job Titles and Job Descriptions.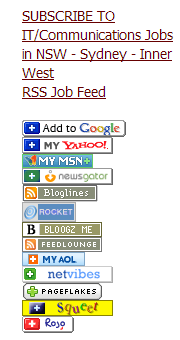 Live Banners
In 2006, we turned job vacancies into banner ads in "real time" and served them to affiliate programs. Prior to this, banner ads we not dynamic and this innovation meant that Advertisers could place an ad and instantly be displayed in a clickable banner. See Live Banners.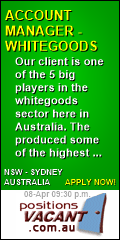 Jobcasts
In 2006, we were also the first careers site in the world to produce podcasts of our positions so that Jobseekers could listen to the jobs with their iPod or MP3 player.Jobcasting of jobs for iPods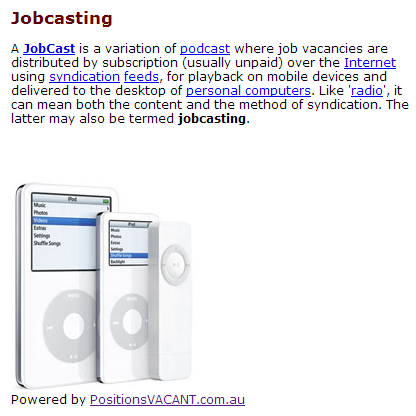 Ratings
In 2007, PositionsVACANT enlisted the services of a third party Internet rating service.
"We are pleased to announce that PositionsVACANT's Australian Employment Site competitive reports produced for June, July and August 2007 showed that PositionsVACANT.com.au had achieved the status of the 'largest audited privately owned job board in Australia.'"
Methodology
Market Domain: Australia Employment Domestic
Report Period: Monthly
Include Dates: June 2007, July 2007, August 2007
Report Type: By Publisher
Selection: Privately owned publishers
Rank By: Total Sessions
* This is nonstandard, custom aggregation and therefore, relative rankings within a category of sites may be affected by the custom nature of this aggregation.
History
1999 Established as a joint venture between an Australian recruitment industry association and a Sydney marketing company
2001 The web site was re-written using a new database and re-designed with a unique, nontraditional style
2003 The business was sold to Data Reference Library Pty Ltd, the development company used for the revamping of the site
2003 RSS Feeds used to "push" job ads to job seekers
2006 Dynamic "Live" banner ads were used to stream real-time ads to candidates
2006 "Jobcasts" released. Job descriptions were transformed to downloadable audio files for podcasts
2007 Reported as the "largest audited privately owned job board in Australia"
2009 Positions Vacant facebook page
2016 Responsive Mobile site released
Trademarks
"Positions Vacant" and the "door of opportunity knocking" is a registered trademark of Data Reference Library Pty Ltd.
"Opportunity Knocks!" is a registered trademark of Data Reference Library Pty Ltd.